Top-Notch Gutter Guards for Homes in Minneapolis, MN & Throughout the Twin Cities Area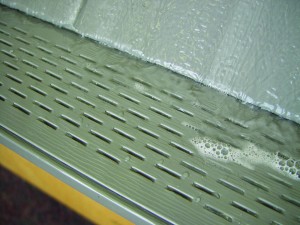 Hurricane Leaf Protector™ gutter guards can help keep your gutter system flowing freely in Minneapolis, Minnesota, or nearby community in the Twin Cities region. At DuBois ABC Seamless, we're proud to offer these handy, time-saving additions to your gutters, which are guaranteed to spare you from ever again having to scoop decaying material from your gutters and downspouts. This means your gutter system can function the way it should all year long.
Properly functioning gutters are an important defense for your home against water damage, which is why having effective gutter guards is so important. Water that is not channeled away from your home can cause significant damage over time, from landscape erosion caused by water that spills over the side of the gutter to water that seeps down the side of the foundation and makes its way into your home.
Our gutter guards work by using the simple process of gravity. We have engineered a gutter cover that siphons water in while keeping organic debris out. Our Hurricane Leaf Protector™ system is effective at keeping out the kinds of material that plague homeowners in the Minneapolis area, including:
Leaves
Twigs
Tree nuts
Seed pods
Pine needles
And more
Plus, our gutter guards fit snugly into the design of our ABC Seamless gutters, and will work with most other gutter systems, so there won't be any screws or nails needed to secure them to your roof. That means there's less opportunity for water to seep into your roof deck and cause damage through rotting.
Contact DuBois ABC Seamless today to learn more about our Hurricane Leaf Protector™ gutter covers and other exterior renovation products that we offer and install on homes in Minneapolis, MN, or any surrounding community.